Head's Blog
30th March 2017: Queen Elizabeth's Girls' School wins award for exceptional 2016 results
Our school has been nationally recognised for its exceptional 2016 performance by the Schools, Students and Teachers network (SSAT). The awards will be presented at a celebration event held to draw attention to the work of high-achieving, improving and innovating schools and teachers. We have won two awards, one for attainment of students and another for the students' best 8 average point scores at Key Stage 4 – a national indicator of progress.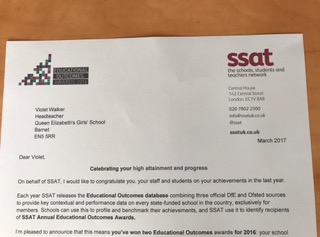 In a press release, Sue Williamson, Chief Executive of SSAT said:
"It's my great pleasure to commend Queen Elizabeth's Girls' School on their excellent 2016 performance, and to have the opportunity to highlight and share their great work at an SSAT Educational Outcomes celebration event. We know how hard teachers work to ensure success of every child. SSAT's Educational Outcomes award recognises professionalism, commitment and hard work of leaders, teachers and students at Queen Elizabeth's Girls' School."
23rd January 2017
On Friday 13th January, I had the pleasure of welcoming to school Councillor Rebecca Chalice with her beautiful baby son, Stanley who was very content while we had a cup of tea and then a tour of the school. Rebecca is a past student; she left QEGS in 2012, becoming the youngest Councillor and recently completing her PGCE. Rebecca is one of the Trustees of the Endowment Fund of the Schools of Queen Elizabeth First. You will remember the fund provided monies for the Upper Courtyard redevelopment. Rebecca was highly impressed with the transformation of the space, very different from the boggy site as she described it, that she remembered from her own schooldays. Rebecca has a sister currently in Year 7 and we visited her History class, taught by Ms Field as well as several other classes from Y13 Sociology to Year 9 PSHE. I was very proud of all the girls in the classes we visited and around the school generally. They were all working with enormous commitment right up to 3.15pm when the bell went for the start of the weekend.
I was also contacted by one of Rebecca's peers, Kerri Prince who now works for a Member of Parliament. She tells me she was the youngest ever Councillor in Hertsmere, at the same time as being a student here at school. Kerri is very keen to maintain contact as an alumna, through The Guild. Please do get in touch if you are or know anyone who is a past student or member of staff and interested in maintaining links with the school. There are opportunities to visit when the school is closed to others, to share memories with your peers, visit the archive and enjoy some social time with very good food!
Last Tuesday I had the pleasure of meeting one of our new Governor Trustees, Uzo Nwami. Ms Nwami is an Engineer and an Ambassador of the Women of the Future Programme. I am sure there will be opportunities for you to meet her in the coming months. Again when we toured the school. I was delighted by the response from the girls and proud to see their diligence in work which was commented on by both Ms Nwami and a Local Authority visitor who was working in school later in the day.
Last week also saw one our students in Year 7, Lina Alizada, achieve over one million words of reading on the Accelerated Reader scheme. Lina has already increased that; she is reading at a rate of approximately one hundred thousand words per day. All the other girls taking part are coming up fast behind her now, eager for their badge and certificate of achievement. Reading really is so beneficial on a number of levels. I really do believe that girls who read, succeed.
Speaking of success, a number of students achieved excellent results in athletics, in competition with many other schools of both mixed and single genders. Three of our students have been selected to represent Barnet in the Middlesex X-Country Championships to be held in Harrow. Lidia Kyriakou achieved took second place in the Year10/11 race, Gabriella Kyriacou achieved first place in the Year12/13 race and Charlotte Matthews, our School Games Captain, achieved third place in the same Year12/13 race. Our warm congratulations go to all of them.
Our Year 9 team were placed overall third in the borough and our Year 10/11 team were placed first and are therefore Barnet Schools' Champions.
Medals and certificates will be awarded this week during assemblies, to the following girls who formed the school teams:
Year 7
Kimberly Lwatati
Phoebe Lashmore
Lola Seldrup
Chioma Adiele
Amelia Stuart
Year 9
Isobel Parker
Pearl Thomas Bocking
Amy Leffman
Rosie Leffman
Nadiye Woodroffe
Misha Humayune
Year 10
Ciara Daly
Maricar Armodia
Olivia Wariso
Year 11
Charlotte Cicco
Elena Lambrianou
Lidia Kyriakou
Annalisa Mack
Year 13
Gabriella Kyriakou
Charlotte Matthews
All the above girls are to be celebrated and congratulated for their commitment, effort and talent.
The English department organised a series of visits to the Charles Dickens Museum last week to support studies for our Year 11 students by enabling them to immerse themselves in the social and political context of his time. Year 8 were privileged to visit the National Portrait Gallery to support their curriculum studies in Art.
I am looking forward to the Jack Petchey Speak Out Challenge Barnet Final which will take place tomorrow evening at Christ's College, Finchley. The Challenge is the world's biggest youth speaking event. Ms Thomas, Head of Year 10 and I will be supporting Zayanne Bako in Year 10, the school's winning speaker.