Barnet Cut Films Success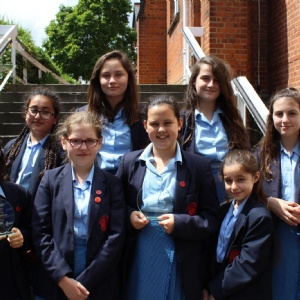 On Friday 24th June Queen Elizabeth's Girls' School were invited to the Local Awards Event for a Year 7 project we took part in earlier in the year during PSHCE lessons. The project involved producing, filming and editing a short information film about the dangers of smoking alongside the charity CUT Films and the Media department.
We took 28 students along to the Awards Ceremony at the Phoenix Cinema, East Finchley as their films were strong contenders for prizes. We are extremely proud of all the entries. One group from 7EAO were overall winners in the 12 – 14 category and one group from 7PNN were runners up. Their films were shown on the big screen which was a real thrill for us all.
The overall winners now go through to the National Finals taking place at BAFTA HQ in Piccadilly on 4th July and we will keep you posted on the outcome of that.
'I felt proud to have the opportunity to win an award' Fiona Fairbairn Moreno 7ANZ

'It was a great project as we really got to learn a lot about smoking ' Amye De Naeyer 7ANZ

It was a really fun project we were learning inside and outside the classroom. Even though I didn't win a prize I was prouid of us all.' Sonia Binkley 7PNN