Key Stage 3 Art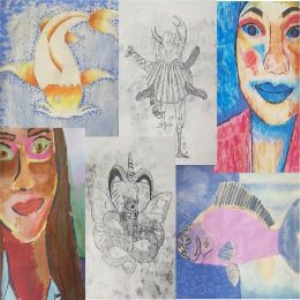 This term Year 7 students have been learning about colour theory and how to use different painting techniques such as sgraffito, scumbling, impasto and dry brushing. They have worked hard to scale up observational drawings of fish to A3 size and they have been applying their technical knowledge to a final piece.
Year 8 have been working on self-portraits inspired by the Fauvist use of bright, bold colours. They experimented with different colour combinations and a range of painting techniques and were challenged to work on a much larger scale.
Fauvism is the style of les Fauves (French for "the wild beasts"); a group of early twentieth-century artists whose works emphasised strong colour and paint techniques over the representational or realistic values retained by Impressionism. Year 8 researched this Art movement, producing informative research pages focusing on the leaders of the movement, Andre Derain and Henri Matisse.
Year 9 have been working their way through a series of workshops this year exploring contemporary artists and learning new techniques in preparation for GCSE. The most recent workshop has introduced them to the work of The Chapman Brothers, whose series of etchings entitled 'Exquisite Corpse' were based on a game, developed by the Surrealists from the traditional game of Consequences. Year 9 have explored the technique of collage and created their own weird and wonderful Exquisite Corpses, which they then turned into mono prints. Over the next few lessons, they will then collage back into their mono prints to add further patterns and textures, as well as use paints, chalk and charcoal to add tone.