DofE Bronze Expedition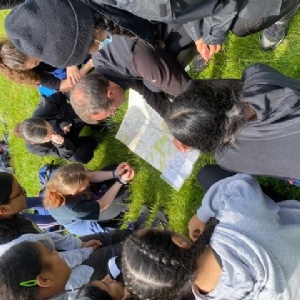 On 26th/27th June, a group of 21 girls from QE undertook their Bronze expedition as a part of the Duke of Edinburgh Award programme. The programme, designed for anyone aged 14-24, consists of physical, skills, volunteering and expedition elements (with an additional residential section at gold level) which can all be tailored to the individual, allowing them to develop as a person and also express themselves and their interests in many different ways.
The expedition was based in the Chilterns, with students completing a 2 day expedition requiring them to hike for 14km (8.7miles) on the Saturday and around 12km (7.5miles) on the Sunday. This was across undulating, challenging terrain in small groups of 5 or 6 where the girls put their skills to the test to complete an unaccompanied expedition. They developed map reading skills, compass and navigation skills as well as the ability to cook over an open fire (we had various types of pasta, flapjacks and custard and even hot chocolate being prepared!)
Some notable experiences over the weekend included an impromptu diversion away from a large field of cows and the girls evident excitement every time they saw their teachers at the checkpoints - even sprinting down hills with heavy backpacks to meet them! Across the two days the girls not only completed an impressive distance walking, they also demonstrated many valuable skills: the ability to work together as a team, resilience, confidence, perseverance, and above all how to appreciate the natural environment and its many wonders. All girls finished the weekend full of smiles and good memories from the expedition, and many of them are now looking forward to completing their Silver awards too.