Young Enterprise Team reach London finals!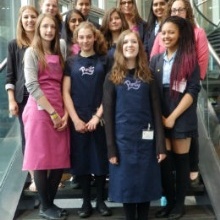 Read how team 'Purity' won an award for 'The Best Team Report'
Purity
The Young Enterprise team having successfully won the North London final and being awarded 'Best Stall' and 'Best Overall Company' went on to compete in the London Finals.
On 11th June Team Purity went to Canary Wharf and presented their business to the panel of Judges. Not only were they up against stiff competition they were also the youngest team, other teams were all Year 12.
With all having completed their presentations our girls were given an award for 'The Best Company Report'. Although they didn't get through to the next round, this achievement was exceptional given the age and level of competition.
The team are continuing to trade during June and July so make sure you buy their products whilst you still can.
CONGRATULATIONS Team Purity!
Earlier article from the Barnet Times on line or read the newspaper article below.