125 Commemoration Day Cakes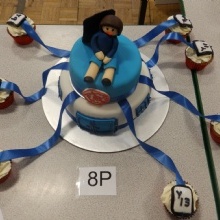 Another year of Fantastic Commemoration Day Cakes
We had another very successful Commemoration Day cake display. This year saw a particularly large number of cakes entered with some fantastic ideas making for a great competition. Judges found it hard to reach a decision due to the high standard of entries. The winners list can be seen below.
Thanks again must go to Hopscotch who gave a discount on all cake materials purchased and also gave support in judging. Is you cake displayed in their window?
Individual pictures of all the cakes can be seen on our gallery pages.
Winners
7R
Telepathic education for it's interesting idea
8P
Tablets & distributed learning for it's interesting idea and excellent quality of finish
9M
Moon cake for it's interesting idea and excellent quality
10R
Original idea and quirky story
11L,M and R
Fingerprint cake which addressed the theme well
Mentions must go to:
7N
Highly commended
7P
Original concept
8M
Dog Rescue Cake for interesting idea with lots of collaboration
9S
Tablet cake for it's interesting idea and good finish
9N
Ofsted Cake for humour and topicality
10P
Original idea and good representation of the school
Non-entry Zombie Apocalypse for excellent presentation
Non-entry 9M Spaceship cake for it's interesting idea