CBBC Cinemaniacs – Frozen in mid leap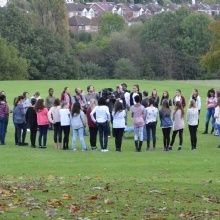 Our Year 8 students were lucky enough to take part in filming for a new CBBC television show to be broadcast as part of the Cinemaniacs series.
On Friday 10th October, fifty Year 8 students were given the opportunity to be involved in a new children's television show. They worked with a film production company, Novel Entertainment, on the demonstration of a filming technique that children could recreate at home. This was to form part of a show due to be broadcast on the CBBC channel in the New Year. The technique, known as 'time slice' was most famously used in the Matrix and Crouching Tiger, Hidden Dragon, where a person appears frozen in mid leap. Down in the grounds, students stood in a circle and all used their smart phones to take a photo/short piece of video of a fellow student jumping up and down on a trampette. The girls worked with the film crew all morning to perfect the technique of being frozen in mid-air. Their item will be broadcast as part of the Cinemaniacs series which is currently being screened on CBBC Saturday mornings at 9pm.