QE Mock Election Day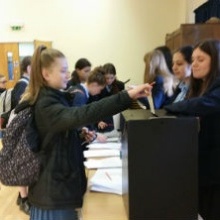 To encourage our students to take an interest in the Election we held our own in house Mock Election Day
We had a candidate from each of the main parties:
Emily Crouch - Liberal Democrat | Elmina Gjonleka - Conservative | Katie McDonagh - Green Party
Giulia Nola-Smith - Labour Party | Michaella Palmer - UK Independence Party
A summary of the parties manifestos:
Liberal Democrats
A middle path on spending cuts. Cut taxes for lowest paid. Equal treatment for mental health as well as physical health. £8 billion extra for the NHS. Extra £2.5 billion for schools. Tougher laws on climate change.
Conservative Party
Cut spending to reduce our debt. £8 billion extra for the NHS. Encourage more home ownership. Referendum on EU membership. Lower taxes on inheritance and income. Limit new immigrants' access to public services.
Green Party
End cuts to public services. Protect the NHS from privatisation. Public ownership of the railways. £85 billion for home insulation and renewable electricity. Abolish nuclear weapons. 500,000 more low rent homes.
Labour Party
Higher taxes on the wealthy. Raise the minimum wage. Freeze energy bills. National Childcare Service. £2.5 billion extra for the NHS. Better vocational education & cut tuition fees.
UK Independence Party
Withdraw from European Union. Tough immigration controls. More grammar schools. End green taxes & wind farms.
Full prison sentences served. Cut foreign aid – Britain comes first.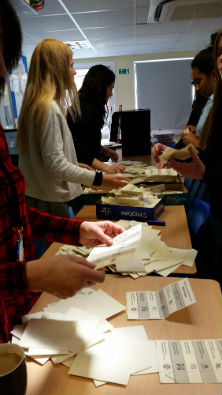 Turn out at the polls was high at over 50%, the voter turnout figures were:
| | |
| --- | --- |
| Year 8 | 77% |
| Year 7 | 76% |
| Year 10 | 65% |
| Year 9 | 61% |
| Year 11 | 51% |
| Sixth Form | 30% |
The Results
| | |
| --- | --- |
| Labour | 331 votes (48%) |
| Conservative | 133 votes (19%) |
| Green | 119 votes (17%) |
| LibDems | 52 votes (7%) |
| UKIP | 47 votes (7%) |
| Invalid ballots | 12 (2%) |