Barnet Youth Democracy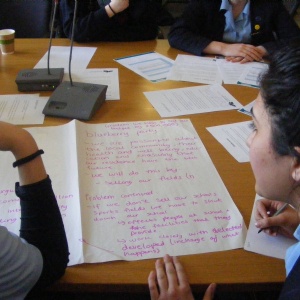 Four of our Year 10 and 11 students were selected to represent Queen Elizabeth's Girls' School and to learn about the democratic processes at Barnet Council. Over a number of weeks, our students attended various council meetings and took part in debates with local councillors as part of follow on workshop sessions. The following is an account of Maisie's experience.
I was one of four students who had the honour of taking part in the Youth Democratic Qualification through Barnet Council. The aim was to learn about local government and it involved us attending three Barnet Council Meetings at Hendon Town Hall. As well as some other local schools, the Labour Councillor of Barnet Borough and the Deputy Mayor of Barnet, Allison Cornelius, were present. We witnessed important debates about relevant matters including adult safeguarding, housing renovation projects and environmental issues. The Councillors helped us during workshop sessions to form an argument of our own for a given scenario we had to debate.
Attending these meetings gave us all a great insight into local politics and sparked much debate whilst in the taxi home. We saw how the issues that affect us directly are handled by the people in power and it gave us a greater understanding of just how we are able to raise concerns with Barnet Council to contribute to making the borough a better place to live in.