GCSE Drama Showcase Evenings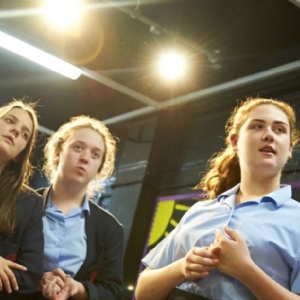 On Monday 14th and Tuesday 15th March parent's and friends' had the opportunity to see the GCSE drama pieces which had been examined on the previous Friday.
The drama studio was packed on both nights with numbers boosted by students who had already seen the work coming back for a second time both in support of their peers and because they had enjoyed it so much the first time around.
The pieces were very enthusiastically received and many parents commented that they were really taken aback by the excellent quality of the work and the range of skills on show. Having expected to see 'Exam work' they had actually experienced an exciting evening of challenging theatre ranging from Ancient Greek Tragedy to contemporary expose's on subjects as diverse as multiple personality disorder and 'sexting' by way of 1980's social realism.
The students performed with great focus and commitment and the amount of hard work put in to creating and rehearsing the pieces was evident.
A very well done to all concerned.