Year 10 First Aid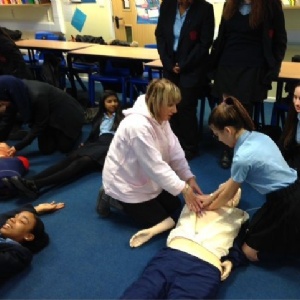 As part of their PSHE lessons, our Year 10 students have been learning first aid. The sessions were incredibly popular and it is clear that our students have learned a lot.
I really enjoyed the First Aid lessons. I found them extremely valuable and informative. I needed to refresh my memory but now I'm sure I'll be confident to use what I've learned when I find myself in an unexpected situation.
Sadiyah Akther 10N
I learnt a lot about common things that people suffer with such as asthma or epilepsy which everyone has heard of but which most of us didn't know how to deal with. I enjoyed going over the recovery position and I think it is important to learn these things.
Eva Papadopoulou 10 N
I found the sessions really useful. They reminded me of the things I could already do and I learnt how to do new things like CPR. I found learning about how to use epi pens and asthma pumps really helpful.
Iman Bensalih 10M