Excellence in sports at the Barnet Championships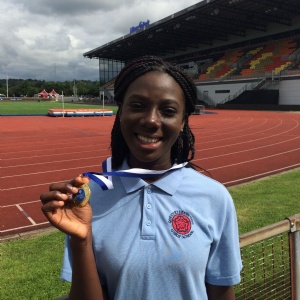 Queen Elizabeth's Girls' School was one of 15 schools competing in the Barnet championships on Tuesday 5th July 2016. The competition required students to compete in heats before qualifying for finals where the competition for medals began. We are incredibly proud to have been represented very well by our students; many personal bests were achieved and performance was strong in all categories. In particular, we won an incredible 8 gold medals, 2 silver medals and 5 bronze medals. Very well done to all students who participated and thank you very much to our PE department for their support of our students. A list of medallists is below.
Gold
Pearl Thomas Bocking - Year 8 800m
Jemima Donkor - Year 10 high jump (girls)
Aya Daniels - Year 10 300m
Chloe Njuguna - Year 10 discus
Amy leffman - Year 8 1500m (girls)
Emily Rodriquez - Year 8 200m (girls)
Lidia Kyriacou - Year 10 1500m (girls)
Year 8 relay team

Silver
Jen Krishnakanthan - Year 10 80m hurdles
Abyan Hassan - Year 9 javelin (girls)

Bronze
Brooke Lloyd - Year 8 javelin
Stephani Varela - Year 7 hurdles (girls)
Emily Rodriquez - Year 8 high jump (girls)
Isobel Parker - Year 8 100m (girls)
Annalisa Mack - Year 10 800m

Overall the Year 8 team came 2nd out of the 15 schools who took part and the Year 10 team came 3rd. As a school, we have been placed 3rd which is a fantastic achievement. We are proud of our students and their perseverance and competitve spirit. They represented the school incredibly well.