Our students graduate from The Girls' Network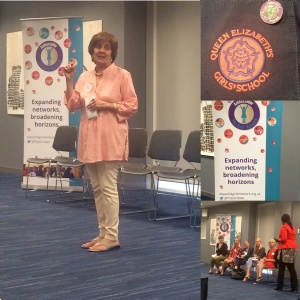 A number of our Year 9 students have taken part in The Girls' Network mentoring scheme this year and had their last session this week. The students involved have travelled into central London once a month to visit very successful businesswomen from the Level 3 company and have been given guidance in ensuring that they are able to achieve the career paths they want.
Last week, all students involved were invited to attend their graduation ceremony and received awards for taking part in the scheme. They also received life-long membership to The Girls' Network which will mean that they will continue to have aces to work experience opportunities and guidance on how to achieve their goals. Please see below some of the students' comments about the evening and thank you to everyone at The Girls' Network for making it such a memorable evening!
"I found the graduation ceremony very enjoyable. Throughout the year I learned that I should never give up and I should always work hard. I also learned that it's okay to not know what you want to do in the future. Instead, you should be open minded and take up as many opportunities as possible then choose what you love to do"

Candice Kini 9HCR
"At the graduation ceremony, I was privileged enough to be able to listen to a few successful women who taught me how to be more ambitious in my career choices. The women inspired me by teaching me that it is alright not to be 100% sure of your future, and to always keep your options open. I would definitely recommend this programme to other students as it gives you more skills and knowledge for the future"

Dilara Guzeller 9JPR
"When we went to the graduation ceremony for The Girls' Network, the thing that really stuck in my mind was Pinky Lilani's speech. To hear how far she had come and all the things she had done was really inspiring. What was even more inspirational is that she is still herself and still has the same morals from when she started her very successful career"

Rosalind Cross 9TTH
Please enter some content for your news story here.