Jack Petchey Award Winners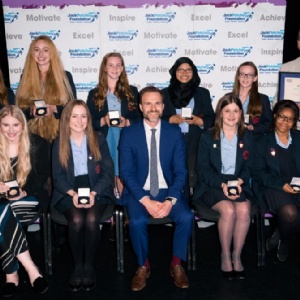 On Tuesday 12th July, we celebrated the individual achievements of a variety of students in the school who have won Jack Petchey awards this year. In addition, Mr Clarkson (Head of History) gained a leadership award having been nominated by his Year 11 tutor group. Full details for all award winners can be found below.
Jack Petchey Awards 2015 - 2016
September 2015 – Isobel Pratsis
This student is a dedicated student who has continued to be a committed member of the Student Council. This is a role she continues to take very seriously as she is passionate about making QE the best that it can be. She became a Prefect this year and has taken this position very seriously-she can always be relied upon to undertake her duties with great professionalism whilst always having a smile on her face. There is never a task that Isobel will not attempt and she has recently been proactive in mentoring a student in Year 10 after they revealed that they were finding the start of their GCSEs difficult. ​She has also organised (with the help of some of her peers) to give up her free time to help students in Year 10 with their Economics exam. She continues to go above and beyond in everything that she does and she is a true asset to the school.
October 2015 – Amy Tapping
This student attends many extracurricular music clubs, including Orchestra and vocal group. She plays 1st violin for the school production of The Sound of Music, which is very challenging. She encourages younger students and helps them musically. Her violin playing is getting better all the time due to hard work. She is passionate about music and is keen to engage others with music within the school.
November 2015 – Richel Mensah
This student is an extremely hard-working, polite and motivated student who always strives to achieve success in everything that she does. This student was a Peer listener in Year 10 and carried out this role extremely effectively. The form group which she worked with valued her support and the tutor commented on the maturity to which she brought to the role, particularly in supporting students with difficulties. She was also selected as a prefect this year and carries out her roles effectively; arriving on time to her duties and supporting the staff in whatever way she can. This student is a real inspiration.
January 2016 - Samantha Felton
This student has demonstrated fantastic commitment to the wider life of the school. She worked extremely hard alongside the team co-ordinating rock challenge and was an integral part of the performance. In addition to this, she has set up her own dance club for younger students which has been a huge success. It is wonderful to see a student want to share her passion with others in such an inspiring way.
February 2016 – October Matthews
Olivia has been involved in rock challenge throughout her time at QE. This year she shared her passion, skills and enthusiasm to great effect. This year performance is equal, to, if not the best performance to date. Olivia managed and led every aspect of this year performance including the writing of the story line, music, set, hair and make-up and costume design. She is a wonderful young lady, who has excelled in the role, all whilst keeping on top of her A2 studies.
March 2016 and April 2016 - Melissa Deiter & Sophie Hudson
It was not just the creative achievements of these particular students that make their contribution stand out but their commitment to the project, the good will and good humour they brought to every rehearsal helping to create a really happy and cooperative cast and crew. They worked tirelessly to rehearse for the school production in their respective roles and produced a truly fantastic performance every night.
May 2016 - Fatima Ali
This student has demonstrated incredible commitment to QE Girls' School since she arrived in Year 7. She is a kind and supportive student who will always go out of her way to help her peers as well as students in younger years. She has immersed herself in the wider school community, getting involved in many clubs and activities. She carries out every activity with a smile on her face and is an inspiration to all.
June 2016 – Phoebe Radley
This student has been nominated by a number of her peers for her charity work this year. She is described as being organised and determined to ensure that the forms charity events are "perfect". Her peers explain that the tutor group are proud of hard-work ethic. It is inspirational to all students to see someone recognised by their peers for the charity work that they do.