Year 7 cells project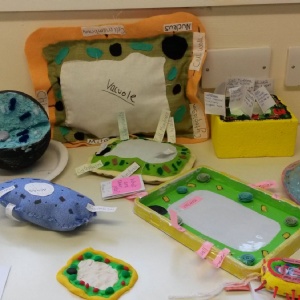 In their Science lessons during this half term, Year 7 have been studying cells as part of the "Building blocks of life" topic. Each student was asked to make a model cell in order to appreciate their 3D nature and to incorporate some of the learning from this topic. As can be seen from the image above, our students have been incredibly creative, making cells from fabric (to look like a cushion), paper mache, sponges, plasticene, modelling clay and even cake ingredients! The types of cells made varied from red blood cells to palisade leaf cells and a range of facts from the topic had been used in the final design.
The Science department would like to thank Year 7 for their impressive efforts during this project.