STEM visit to Accenture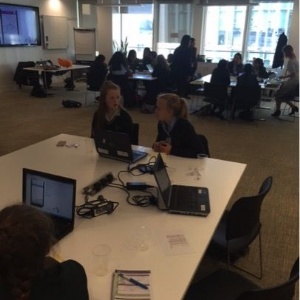 A group of our Year 10 students were recently invited to attend a STEM themed learning day which was held in the impressive office of Accenture, in the heart of The City. Below is an account from one of our students, Akua.
"On Monday, some students from our STEM group were invited to go to the Accenture office to take part in STEM themed activities specifically targeted at girls. We got the opportunity to meet with girls from another school and to work together in order to make an app. We were asked to make an app that promoted a music festival that we got to devise ourselves. My partner was from another school and once we got to know each other, we spent approximately 3 hours designing and making our app to promote the 'Melody Music Festival'. We had to perfect a presentation which we had to deliver to a panel of judges in order to explain our app and how we created it. There were many great ideas and I was so pleased when our idea was chosen as the best. The day was fantastic!"
Akua, Year 10