Women of the Future Ambassador Reception 2016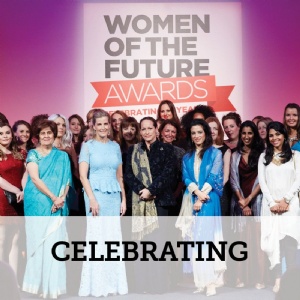 "On Friday 18th November 2016, five Sixth Form students had the opportunity to go to the Woman of the future Ambassadors Programme and were accompanied by Mrs Walker. The event was very prestigious and was held in Lloyds bank in central London. Even though we got lost on our way there, the experience and advice given by the speakers was so inspirational and the time flew by so quickly.
As soon as we entered the building we signed in and were escorted to the event. Our host for the evening was Nejra Cehic who is a TV reporter for Bloomberg. Not only did she introduce the guest speakers she informed us her point of view of the situations as well as emphasising key points from the talks delivered by the various speakers. This was very useful as it clarified the advice given to us and gave us time to reflect on what was said.

The first speaker was Pinky Lilani who is the founder of the Woman of the future Ambassadors Programme. Pinky was lively and she informed us that we shouldn't change to fit the world around us and that we should be and stay unique. Additionally she advised us to find something about our self that makes us special and different compared to other candidates. This should be something that would stand out and people would recognise, for example, she gave us an example that was kindness. Pinky values kindness and carried 5 golden coins and her aim each day is to give out these gold coins to every kind person she meets.

Next was an ambassador named Sheila Nortley who is a screen writer who owns Dreamscape films and who has won many international awards. This includes best film at the BFM awards at the British Film Institute. She told us that her passion for writing and filming drove her to success. As a child she enjoyed writing and filming and she enjoyed it so much that she found a profession within this area. She found this because she works hard and best for things that she enjoys. On the other hand she informed us that her sisters were a doctor and a dentist. Even though she wasn't going on the same journey as them she didn't let that cloud her decisions. Her advice was to dream big and that the sky is the limit. Moreover she informed us that self-doubt influences how well you do in life and what you achieve. "BELIEVE IN YOURSELF" is what Sheila said as this is what will get you far in life. Based on a question about how to reach or break the glass ceiling she said that the fact it is transparent means you can see where your destination is. However you shouldn't rush it as once you reach it you never know how thick that glass is. So believing in yourself and taking your time is all you can do. If she was 18 again the advice she would give herself is that everything happens for a reason and that if you are beautiful inside (being logical and not academically smart), then the beauty inside will speak for itself and people will fall in love with that.

Another ambassador was Danielle Brown who is a company director. She is also a double Paralympic GOLD medallist in archery as well as three-time World champion and has remained number one for her whole entire career. Danielle became disabled when she was a teenager and she wanted to be a Lawyer. Her parents were sporty so was she however playing sports became harder as her legs would tire quickly. She then found archery which she was terrible at, but she enjoyed it nevertheless. Danielle would get through the school day knowing that she would be able to go and play archery after school. She practiced every day and she became better as time went by. In 2008 she was chosen to represent team GB for archery. She smashed all the qualifiers, however the night before the finals she began to doubt herself and thought she was not good enough and that she would let everyone down. Then, she received an email saying that she could do it and that everyone believed in her. At this point she began to believe in herself. "I annihilated that game" is what she said and she then won a Gold medal for this effort. She also won a Gold medal in 2012 in London. She was determined to keep her title for Rio 2016 but the rules changed and she no longer qualified to be a disabled person to play for archery. In 2010 she graduated with a law degree and chose to continue with sports. Now she has her own training and public speaking company. Her advice was to do what you want and that you are the only barrier who can make you succeed and hard work and dedication is the way forward.

The final speaker was Andy Clarke who is a Risk director for Group digital Lloyds baking group. "It's okay to be different" is what he told us and said that he didn't go to University whereas everyone else in his year did. He had about 3 meetings with the Headteacher (who he barely knew) trying to convince him to go to University. However he stuck to his decision not to go even though he did well in his O-levels. He felt very passionately that we learn the most from things that we fail at and that these mistakes help us to eventually succeed which will make you a better and more rounded person each time you learn form a mistake. A member of the audience asked a question about how to preapre for interviews he gave some helpful advice such as doing your background research and asking for help. The ways you can ask for help is either by calling up the firm and asking what the job entails or just using the internet to find out more about the firm and having background knowledge. Moreover when applying for a job you do not require all the skills that they list, and that you should focus on the skills that you have during your interview. Also just include that you are prepared to learn new skills, which would imply that you have most of the skills required, and that you can develop further.

Once all the guests spoke and the questions from the audience had been answered we had an hour to mingle and find out a little more about some of the audience members. I was fortunate enough to speak to Andy Clarke as well as Sheila Nortley. Andy told me that I should just follow my heart and interests and to work hard and that my personal qualities such as working well within a team and being able to present to large groups would be very useful. The advice Sheila gave me is that if I enjoy something then continue to do it and to not worry about what profession to enter as new professions are always being created and found.

Overall, the entire day was extremely inspirational and I am very privileged to have been able to attend the event and to meet such a range of people."
Fatima Ali 12RHN