Year 8 win trophy design competition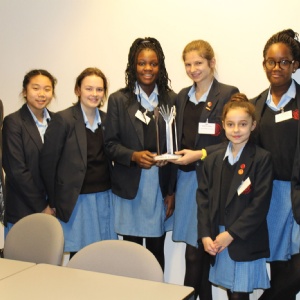 "In early October this year, a competition was set to see who could design the best trophy based on volunteering for the European Volunteering Capital 2017. Every student in Year 8 was given the chance to enter, but only seven could be shortlisted. Miss Davis (Head of Year 8) chose the designs submitted by the following students: Verona (8ANZ), Brigette (8EWT), Amy (8EAO), Yan (8HWN), Madeline (8MEA), Mathilda (8MEA) and Temilola (8MEA). These seven designs were sent forward to the sculptor of the trophy, Mr Guy Portelli. He decided which designs provided him with the most inspiration. Out of many schools from London, Queen Elizabeth's Girls' School was chosen as the winning design.

Our seven students and Miss Davis were invited to attend a special conference in City Hall on Monday 5th December. We left school feeling excited and travelled to Central London by tube. We were taking many photos as we walked along the south bank of the River Thames towards City Hall.

When we arrived, we were welcomed by an official and taken through security to meet Mr Portelli, who created the European Volunteering Capital 2017 trophy. We sat down with him as he talked to us about his innovative design, which consists of all colours of the Union Jack and the Irish flag. He explained the influence of our designs on his final model. The trophy is "Hands up for volunteering" which was based on people wanting to help. Two of our students were chosen to help in presenting the trophy to Sligo, Ireland, on stage later in the conference.

After the meeting and group photos with Mr Portelli, we were taken to our seats in the front row of the Chamber at the bottom of the helical stairway. The conference started with speeches from Laura Brown (Member of Team London) and Matthew Ryder (Deputy Mayor of Social Integration, Social Mobility and Community Engagement). Prior the presentation of the 2017 award, the announcement of 2018 winner was made – Aarhus, Denmark.

Finally, it was time to present the trophy to the winner of the European Volunteering Capital 2017. Madeline and Brigette were on stage to witness the presentation. After the conference was over, we ate our lunch and started to make our journey back to school, reflecting on the great experience that we all had."
By Amy Li (8EAO) and Yan Lee (8HWN)