Choir perform for Abbey Ravenscroft Nursing Home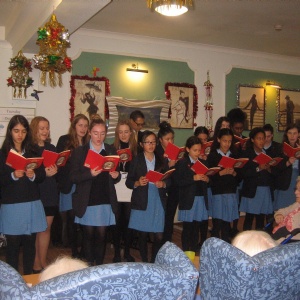 We were delighted to be able to take some students to the Abbey Ravenscroft nursing home in order to perform for the residents. Here is some feedback from students who were in attendance:
"On Tuesday 6th of December, we (the school choir) went to Abbey Ravenscroft Park Nursing Home. When we arrived, the staff greeted us kindly. After setting up, we began singing! It was heart-warming to see all the older people smiling and singing along with us! Plus, the staff treated us with drinks and snacks afterwards! Before leaving, we all chatted with everyone there – they were all so kind!"
- Anna Fearnhead
"The choir went on a trip to Abbey Ravenscroft Nursing Home. We all sang Christmas carols to the older people and it was really fun! We even got to eat biscuits and talk to the older people afterwards. They were all very knowledgable about the local area and had some good stories to tell us. It was a lovely experience​"
- Laizina Aikebaier