Jack Petchey Award Winner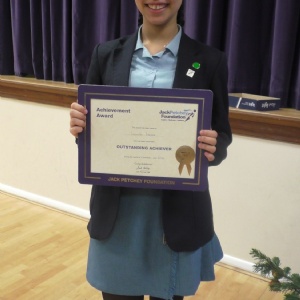 Many congratulations to Laura Lopez in Year 10 for winning a Jack Petchey award which she was recently presented with in assembly. We are delighted that her caring approach has been recognised. Below is an excerpt from her award nomination.
"Laura is an encouraging friend who is always there when you need her. Her consistent hard work during class influences others to work harder.

When a fellow student was in severe pain due to a stomach condition on the local bus, Laura asked the bus driver to stop and handled the situation remarkably well. Laura called the friend's mum as well as the school, all the while remaining calm. She is exceptionally caring and she can make friends very easily.

Laura has kindly chosen to spend her £250 to fund a GCSE English school trip to the theatre to see "An Inspector Calls". "