Copenhagen Visit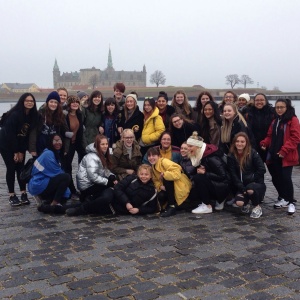 During half term, three members of the English Department visited Copenhagen with 29 of our wonderful sixth form students. A review of this study visit can be found below.
We set out at 3.30am from school and arrived bleary eyed in Copenhagen by 10.00am to settle in to our welcoming hostel, The Generator. The first day was spent recovering from a lack of sleep, exploring a brand new city and reassuring ourselves that the wi-fi worked and that Dominoes and TGIs were open. On the second day, we embarked on the main reason for our visit, the trip to Kronberg Castle, the inspiration for Shakespeare's 'Hamlet'. We enjoyed a breath-taking guided tour of the castle with the 'real' Horatio and speculated as to whether Shakespeare actually visited the castle in his younger life – it looked increasingly likely and pleased us to think so. The third day was spent in Copenhagen. A group of our students enjoyed a bus tour of the city, some intrepid girls ventured out on bikes and the rest of us walked around the city, visiting attractions like the Design Museum and the Little Mermaid. We had lunch in 'Paper Island', a wonderful venue full of street food and warmed ourselves on the braziers outside. We left our hopes and dreams on the trees within the art work of Yoko Ono. Never have teenagers walked this far without complaint! The final day was time for final sight seeing, shopping and eating as many pastries as possible.
Overall, it was a wonderful trip spent in the company of our fantastic girls; as always they were a credit to the school, themselves and their families. Special credit to Ms Kenney Dwyer and those who had to stay for an extra day, coping wonderfully with this unexpected challenge.