Big Bang Competition Winners!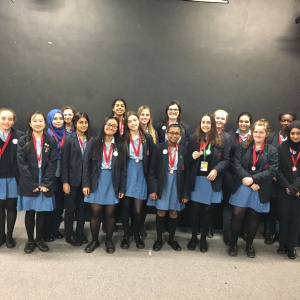 Having entered the "Big Bang" Science competition for the first time, Queen Elizabeth's Girls' School not only had a particularly large number of groups entered into the finals, but we also left having won a national award! Two Year 10 students have shared their experience of the process below.
"A number of students have been part of a STEM group this year which was formed for the first time to help us explore STEM opportunities as women of the future. We had been working on various projects and in January we decided to take part in the "Big Bang" Science competition. This is a national competition where students were invited to form groups to work towards solving a 21st century challenge of their choice. Our school entered an incredible number of teams in the competition. We were thrilled to discover that eight groups, which is more than half of those who entered, then went on to beat the competition to be awarded a place in the prestigious finals.

On Tuesday the 14th of March, we took the train to the NEC in Birmingham. Once there we checked into the hotel and then immediately went back to the NEC to prepare our stands for the presentations on Wednesday the 15th March. The stands were promptly set up with posters, models and presentations. Overnight, we rehearsed and polished our presentations until they were prefect. We also tried to calm our nerves as we were really excited.

Wednesday morning was hectic since this was the main day of judging. We had to present our projects to many judges who were each looking at different aspects, for example the teamwork element or the science that underpinned the project. We then had some time to explore the science fair and to speak to some of the representatives from many companies and universities such as GSK, Rolls Royce and Warwick University who all had interesting STEM related stands. We learned a lot about aeronautical engineering and biochemistry and it was very informative as we did not know much about these topics prior to the event.

The day ended with a big award ceremony, where all the finalists gathered together to find out the winner of each category. We all received medals and one of our groups, Solar Savers, won the RAF's teamwork award which was a fantastic achievement for us, especially as it was the first time our school had entered the competition.

Overall, the experience was amazing and very educational. We hope to be able to repeat it in the near future."
Akua Asare and Anna Camplani, Year 10