Celebrating diversity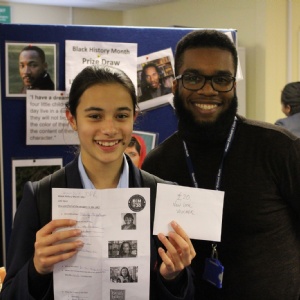 At Queen Elizabeth's Girls' School, we have focussed on diversity in its widest sense during the month of October, which has coincided with the 30 year anniversary of Black History Month in the UK. To celebrate this, students have been learning about the achievements and contributions of British people of African and Afro-Carribbean heritage.
All Students have had an assembly on the theme of equality; where topics such as the lives of Martin Luther King and Harriet Tubman, have been explored. In addition, students have had the opportunity to take part in different initiatives across the school in a variety of subject areas, notably English and Art. We have held literary and creative quiz competitions and would like to congratulate Jasmine Salt in Year 7 who won the whole school quiz, which had over 100 entries.
The Art department would like to congratulate Jessica Adu-Wiate from 10PKI for winning their competition. Her entry used a range of materials including, paper, fabric, felt pen and collage. The poster she designed gave information about Yaa Asantewaa, Queen mother of the Ashanti people. She wins the first prize of a bag of art goodies which includes: Sketch book, paints, brush and colouring pencils. This should certainly help foster Jessica's creativity! Her winning entry is shown below.