National Schools Poetry: QE Student Wins 3rd Place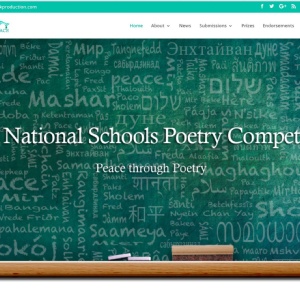 We are delighted to have received the news that Tito Molokwu has won third place in the Age 15-17 National Schools Poetry Competition 2017. Her poem can be read below.
"World Peace" By Tito Molokwu.
This life often leaves us wondering,
Begging on our knees asking; "Why?",
Why the earth strikes us with hurricanes,
Leaving us bruised in their ruthless eyes,
Why corruption runs governments,
And the thirsty are not quenched,
Why those who peacefully protest,
Are silenced and benched,
Why such people walk our streets,
Eroding and erupting the soil in the grounds,
Sending bodies flying,
Accompanied by orchestral wailing sounds,
Yet despite the darkness of this world,
I slumber sweetly each night,
Because within our galaxy,
There's this force,
A counteracting light,
It's this indescribable feeling,
Extracted from the rarest ore,
I sleep as that which I cannot fathom,
Does not disturb me anymore,
It glows within silence.
Freedom in an aura so serene,
Like resting at the bottom of the ocean,
Comforted by all that is marine
Yet it is ever so loud,
The roar of spiritual worship and praise,
Or the symphony of lovers,
As they connect,
Through a mesmerising gaze,
Coexisting in unity through acceptance,
Strangers holding doors or offering a seat,
Within each other's hearts,
Every human can find a niche,
Relieved from the chokehold of shame,
Breathing as we no longer care,
About our mistakes or who hurt us,
Exhaling our fears into the air,
I know that somewhere the sun is shining,
Even when the clouds block my view,
Her rays are beaming,
In the form of a "Gracias",
Or a "Merci beaucoup",
Because all darkness is temporary,
The way in spring all of nature blooms,
Flowers' roots sprout once again,
Creatures return from winter's dooms,
When we all give a piece ourselves,
Through a kind word and selfless deed,
All these pieces reconcile in harmony,
They form this light we call World Peace.