Book Club take part in Read4Barnet event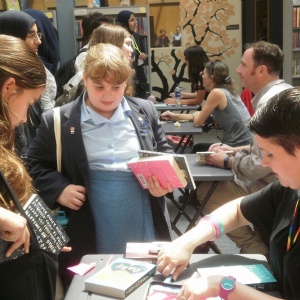 Last Thursday, a group of 19 students from Book Club attended the Read4Barnet event, joining 8 other Barnet schools. A total of 4 authors were present and each took some time to discuss their books and to take questions. In attendance were Anthony McGowan, who was shortlisted for this years Carnegie award with his book 'Rook', and Non Pratt (Truth or Dare, Unboxed and Trouble) who was very humorous during her talk.
Some student feedback:
"I enjoyed meeting Nat Luurtsema because she was funny and interesting. She wrote the books "Girl out of Water" and "Lou out of Luck". I also liked the author panel because it was inspiring hearing how each author became so successful. I enjoyed being with other schools as well. It was great that we got to vote for our favourite author. I voted for Nat Luurtsema, and she was the winning author as well."
- Morsal 7SKT
"At Read4Barnet we listened to authors tell stories about their experiences. I found it interesting and learned a lot more about books and the whole publishing process. We got a chance to vote for our favourite author, which was a good ending to the day as well as a good talking point."

- Madina 7JPR

"We got to meet amazing authors and ask them questions about their books. I found Non Pratt inspiring, she has encouraged me to write. It was good to meet people from other schools as well."

- Juliet 7JPR

Nat Luurtsema