'Quality Fish, North Finchley' support Year 10 students to fillet a fish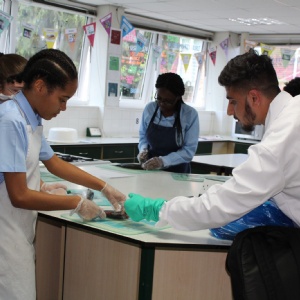 Following a very informative workshop, one of our Year 10 students has written a brief summary of her experience when learning how to fillet and prepare fish:
"On Thursday 12thJuly 2018, Mrs Doel's Year 10 GCSE Food Preparation and Nutrition class were privileged to take part in a special workshop where we learned how to fillet a fish. Elias, a fishmonger from Quality Fish North Finchley Ltd, came to school to demonstrate and support us in filleting a fish.

As a class, we had the option to fillet Sea bream, Sea bass and Mackerel. At first we were all very nervous, excited and overwhelmed by the sight of an actual fish in front of us! We soon, however, overcame our nerves and whilst it was challenging at first we all eventually succeeded in successfully filleting the fish. Overall we learned a lot and we were very happy to have been given the opportunity to learn such a skill, which will no doubt help us in developing our dishes as part of the GCSE course."
- Nadine 10MBE