Year 12 English Literature Students visit Bath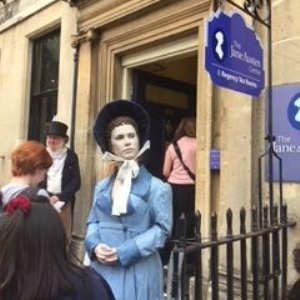 The English Department led a Year 12 English Literature A level students to Bath in order to complement the study of Jane Austen's 'Sense & Sensibility'. Austen herself spent a number of years in Bath and drafted many of her books there, with Bath being mentioned in all her novels.
After arriving in Bath via the train from Paddington, we walked to the Jane Austen Centre and were taken on a guided tour to key venues within the city. We learned a great deal about Austen and her influences, information which will be invaluable when we have to write about the context of the text.
Throughout the course of the day, we estimated that we walked close to 9 miles which, for teenagers, is surely a record! We then spent some time exploring Bath before travelling back to Paddington.