Year 10 and 11 visit Nice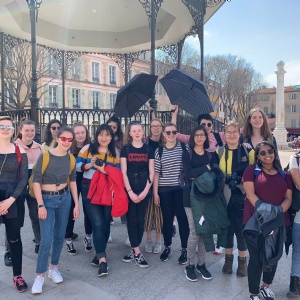 During the half term holiday, a group of students in Years 10 and 11 were given an amazing opportunity to go to Nice for a one week stay with a French family for an authentic, all-inclusive, and immersive experience. Of course we were delighted to accept this offer! Going to Nice was an excellent decision.
The day started very early in the morning. After a short flight, the student group arrived at the French airport and were met by the French families who took us back to their homes. A quick drive and we arrived at their lovely houses and we started to get to know the families. Our first dinner with the welcoming families made one successful day complete.
During the coming days came, we woke up around 7am in order to have enough time to arrive at the school by ourselves. Travelling independently was frightening at first, but it soon proved itself to be a very helpful in traversing the city in its entirety. We had 3 hours of school per day; a different topic was covered during lessons each day, and extensive notes were made. Very quickly, we started to feel more confident in our French skills, both speaking and understanding.
With every passing day, we went to a new activity after school. Day 2 - we had a tour of Nice. The sights were incredible and a breathe of fresh air with interesting monuments and views! Going into different stores and being able to utilise French skills was challenging, a bit confusing at first but with a bit of practice, we had got used to it
On day 3, 'la musée océanographique', the aquarium, as they say in France. We visited Monaco where there were a great many astonishing sights and many new facts along the way. Day 4 saw us visit Antibes and the Picasso museum. The Picasso museum was quite small, but we appreciated the wonderful arts. Antibes had a lovely community full of shops that were welcoming to us as we attempted our best to quickly form sentences in French, we were able to do so with little effort required! Experience is one of the best forms of learning is what they say, and we agree!
Day 5 - Grasse and the perfume factory. Wherever you were in France, the landscape was not one to be missed. As soon as we walked into the parfumerie, the smell was splendid during our visit, a delightful experience that we won't forget! We also went to St.Paul de Vence, a little town with an artistic atmosphere on the hill, we enjoyed it very much!
On our sixth and final day, we went bowling, as it wass our last day in Nice. We had one final trip around the town square as a group together and had a litlte free time.
All in all, it was a very helpful and informative trip which we all very much enjoyed.