Year 9 CPR in PSHE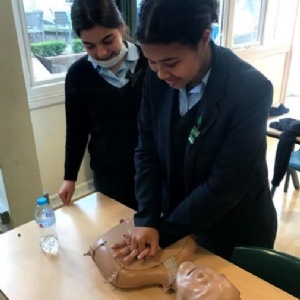 This term in PSHE, Year 9 have been learning how to perform CPR and how to put someone into the recovery position. The lessons involved teaching students steps to take if they were to encounter a person collapsed on the ground. These included conducting a Primary Survey which is the initial assessment to look for danger and how to carry out 'DR ABC' before moving the person into a recovery position or in a more serious case, having to perform CPR. All students showed wonderful enthusiasm for learning the steps and then having a chance to practise CPR on our very own 'Annie' dolls which have been specially made to teach CPR. 'Baby Shark' in the background helped the girls time how often they needed to do a chest compression and a lever on the dolls clicked to indicate how far to push. This proved to be hugely surprising as students found doing 30 chest compressions a hard task which made them value the work of paramedics and other medical staff that are faced with these scenarios all the time.
Year 9 demonstrated exemplary strength and teamwork during the CPR lessons. Here is some feedback from students:
"The CPR session was quite challenging at first as it more challenging than I thought when I had to make the button click each time I was pressing into the chest of the Annie doll. After some practise I found it much easier. I enjoyed having a practical lesson as it helped me remember the steps better and allowed me to practice CPR properly and learn the correct techniques when doing CPR."
- Farima 9PKI
"I found the CPR session great, although I found it difficult to push down hard on the doll. I thought the experience was great as we could all see and practice what we would do if we ever came across a situation where we would need to do CPR. I was surprised by how hard it was to push down 5-6 cm whilst doing it in time with the baby shark song. I loved having a more practical session and I enjoyed the experience as it has taught me a life skill."
- Dania-Nevaeh 9PBE
"I found actually found CPR very very difficult! I was shocked with how hard it was to press down 6cm into the dummy in order to hear the click. However I did enjoy it very much! It was fun and the theory part helped me to remember the steps."
- Camila 9HNA