Duke of Edinburgh Training Day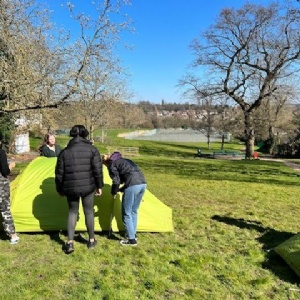 On Saturday 19th March, 46 year 10 students from Queen Elizabeth's spent their day back in school completing their training day for their upcoming Duke of Edinburgh Bronze Award practice and qualifying expeditions.
The DofE programme, designed for anyone aged 14-24, consists of physical, skills, volunteering and expedition elements (with an additional residential section at gold level) which can all be tailored to the individual, allowing them to develop many key life skills and express themselves and their interests.
The training day was run by an excellent team of instructors from AtoZ Expeditions who covered four sessions over the day. The first session the girls looked at putting up tents and the type of land they require to do so, including how best to ensure your tent stays dry throughout the night and how to prevent your tent from blowing away by securing it safely.
One session was based around packing your bag in a sensible manner to ensure full waterproofness of your items and the ability to carry it for a total of 15 miles. The girls also discussed the importance of different types of waterproof clothing and why a boot with ankle support was much better than one without.
The girls looked at Ordnance Survey map reading, with one student commenting that "I never knew there were so many different elements to a map - I thought it only had roads on it!". They also had first aid scenarios to practice where they were tasked with prioritising first aid incidents and choosing when they would deal with the incident themselves and when they would contact their instructor.
A particular favourite session with the girls was the one involving cooking on a small camping stove, where the girls were tasked to boil water to allow them to create hot chocolate. This was well received with the girls, one commented that "although it was one of the most watery hot chocolates I've had, it was really fun to use the Tranjia stoves and make it outside".
All of the students left the day equipped with skills to best prepare them for their expeditions which are coming up in May and June. We wish them the best of luck with those and look forward to hearing about all their experiences from the weekends.