Year 13 Geography Field Trip to Dorset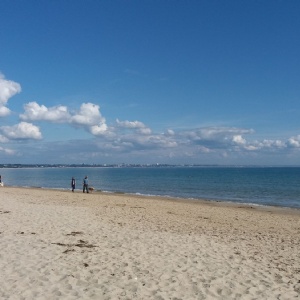 Between 20 and 23 September, a group of 5 Year 13 geographers visited Dorset to complete a range of fieldwork activities in preparation for their NEA.
On Tuesday 20, we travelled down to Dorset and started our fieldwork on coastal management in Swanage. The students conducted an experiment to test whether longshore drift was occurring at Swanage Bay by throwing an apple into the sea and calculating the speed and distance it travelled along the coastline. They then undertook a range of surveys to determine how effective each management strategy is. They also interviewed members of the public to find their views. We also managed to squeeze in an ice-cream for our efforts! Later we travelled the short distance to our accommodation, a picture perfect cottage, near Corfe Castle.
On Wednesday 21, we spent the day on the stunning beach at Studland. The weather was glorious and there were even people swimming in the sea! Here, the students completed a transect measuring sand dune succession, using a range of equipment such as ranging poles, quadrats, clinometers and an infiltration metre. We had a picnic on the beach and spent some time exploring the area and observing the human impacts on this beautiful natural environment.
On Thursday 22, we spent the day in Boscombe, an area that has experienced recent regeneration. We took a stroll along the pier and the promenade collecting data on the quality of the environment, noise levels and drawing field sketches. We then walked towards the main high street, further inland to observe changes and assess whether the regeneration of the sea front has been beneficial for Boscombe as a whole.
Finally on Friday 23, before heading back to Barnet, we visited the charming area of Lulworth Cove on the Jurassic Coast. The students were able to walk up the high cliffs to take in the breath taking views across the bay.