Bertha Earth Launch Day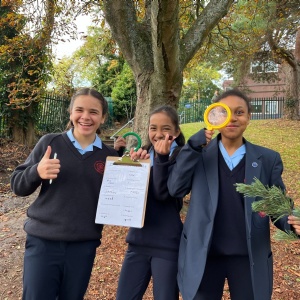 Bertha Earth is a company working with secondary schools to advocate and envisage a world where every child inherits a healthy, thriving planet.
Bertha Earth's mission is to grow a diverse network of young environmental leaders and change makers who reignite a love for our planet. Bertha Earth came into the school to deliver an exciting new programme to the year 7 cohort they focused on: activism, confidence and making an impact. The year 7's had a day off timetable exploring how amazing the planet can be through both practical and theory lessons.
One student wrote:
"I think it is really important to be curious because you should always ask questions about the earth and ask what you can do to help! I am curious to help and learn about the planet, and also how I can contribute to help as much as I can, whilst being closer to nature."
Below is a photo of our Nature Detectives, on the Bertha Earth launch day, exploring the vast school grounds and seeing the different textures which are right on their doorstep these included: acorns, flowers and dragonflies.
We look forward to choosing our Bertha Earth Ambassadors which will allow them to explore and engage in their views on the environment through an exciting week long residential to Jamie's Farm as well as a weekly club run by the Bertha Earth Team.