Design Technology Sketchathon Event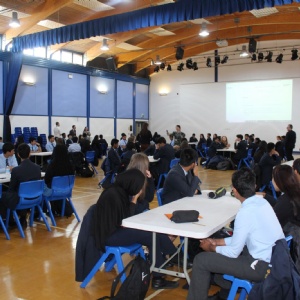 Our Year 10 Design Technology students partnered with Year 10 students at Queen Elizabeth's School on Wednesday 10th May 2023.
Over 100 students worked collaboratively to take part in a series of design challenges on the theme of sustainability. The event commenced with a speech from an old Elizabethan who had recently commenced a degree in Engineering. He offered an interesting perspective which linked his GCSE studies in Design Technology with his degree. He then coached students as they worked in mixed teams to produce a series of designs for environmentally friendly children's toys as part of a 'sketchathon' competition. There was much creativity and a healthy dose of competition in what was a collaborative and supportive environment.
We would like to thank Ms Tomlinson at Queen Elizabeth's School for arranging the event which was enjoyed by all. We look forward to hosting the event ourselves next year.