Governing Body
Queen Elizabeth's Girls' School converted to academy status on the 1 August 2011.
It reconstituted on the 24 April 2018 to bring the school in line with the Government's latest recommendations for academies. (The relevant documents can be found below as attachments)
The Board of Trustees meets five times a year.
It has a Finance and Premises Committee which meets four times a year.
Members hold an AGM annually.
There is also a Pay Committee and an Admissions Committee. Please see our annual accounts (below) for information about salaries over £100,000.
Structure of Governance: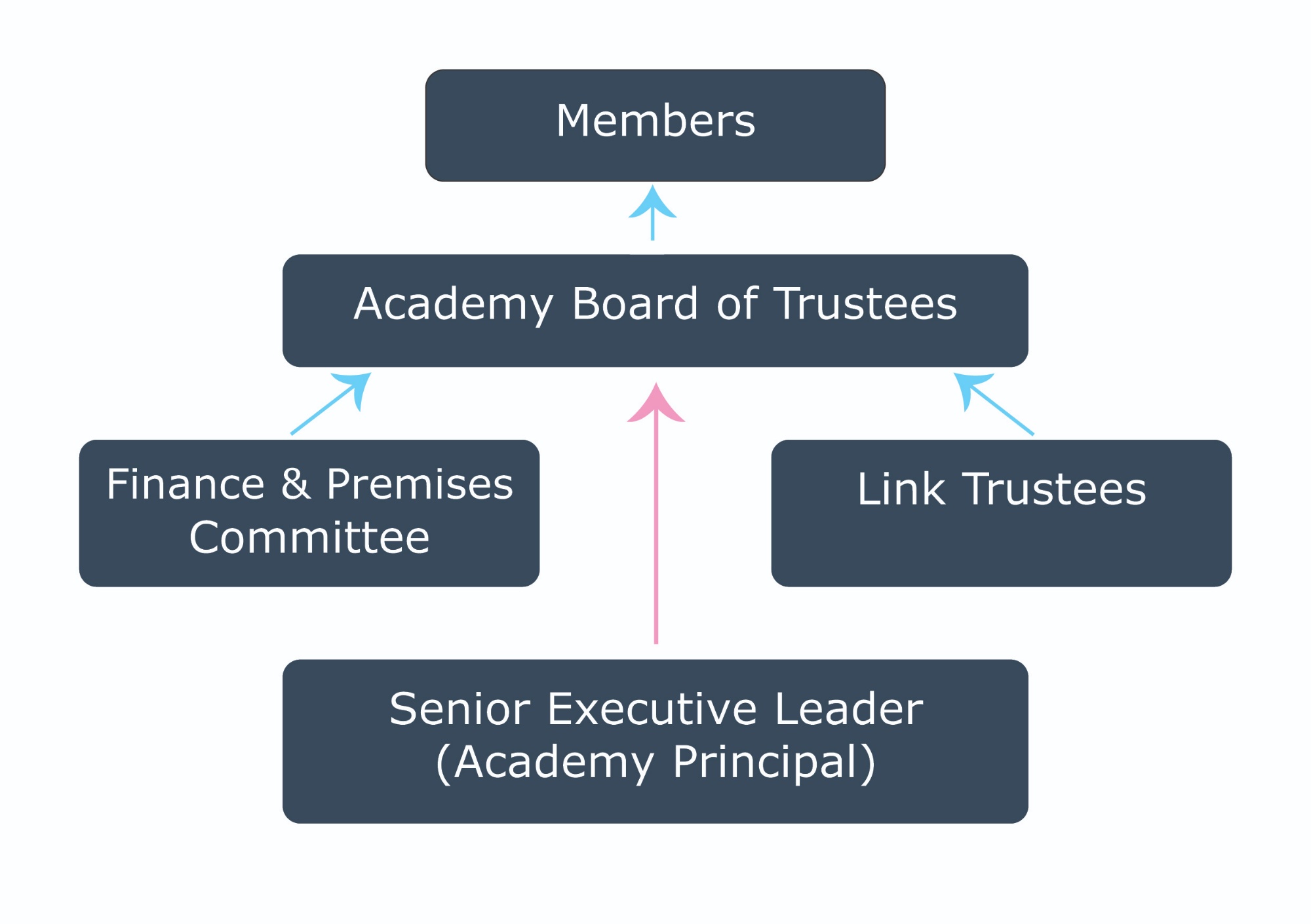 Governance structure and lines of accountability
The academy trust board of trustees delegates responsibility for the day-to-day running of the academy to the principal. The trustee board will hold the principal to account for the performance of the academy. The principal in turn holds other members of the senior leadership team to account by line managing them.
The principal will report to the board on the performance of the academy, although this will be supplemented by the monitoring of trust board committees and individual trustees with any delegated responsibilities.
The principal is performance managed by the trust board.
Roles and Responsibilities
The Role of the Members:
The members appoint trustees to ensure that the trust's charitable object is carried out and so must be able to remove trustees if they fail to fulfil this responsibility. Accordingly, the trust board submits an annual report on the performance of the trust to the members. Members are also responsible for approving any amendments made to the trust's articles of association.
While members are permitted to be appointed as trustees, in order to retain a degree of separation of powers between the members and the trust board, and in line with DfE expectations, not all members should be trustees. Under model articles employees are not allowed to be Members.
The role of trustees:
The academy trust is a charitable company and so trustees are both charity trustees (within the terms of section 177(1) of the Charities Act 2011) and company directors.
The trustees are responsible for the general control and management of the administration of the trust, and in accordance with the provisions set out in the memorandum and articles of association and its funding agreement, it is legally responsible and accountable for all statutory functions, for the performance of the trust, and must approve a written scheme of delegation of financial powers that maintains robust internal control arrangements. In addition, it must carry out the three core governance functions:
Ensure clarity of vision, ethos and strategic direction;
Hold the executive to account for the educational performance of the trust and their pupils, and the performance management of staff; and
Oversee the financial performance of the trust and make sure its money is well spent.
The board of trustees has the right to review and adapt its governance structure at any time which includes removing delegation.
The role of trust board committees
The Academy Trust of Queen Elizabeth's Girls' School has a Finance & Premises Committee to which the board delegates financial scrutiny and oversight.
The trustees may also delegate responsibilities to other committees or to individuals as appropriate.
The membership (at least three trustees) and responsibilities of board committees are set out in the committee's terms of reference.
The role of the senior executive leader
The principal has the delegated responsibility for the operation of the trust.
The principal is the accounting officer so has overall responsibility for the operation of the academy trust's financial responsibilities and must ensure that the organisation is run with financial effectiveness and stability; avoiding waste and securing value for money.
The principal leads the senior leadership team (SLT) of the academy trust. The principal will delegate management functions to the SLT and is accountable to the trust board for the performance of the SLT.
If the principal is also a trustee they are entitled to participate in votes and committees of the Board of Trustees.
Further details of the board can be found in the Trustees' Handbook (see below).
The chair of the board can be emailed via chair@qegschool.org.uk
If you wish to complain please refer to the Complaints Policy which is in the policy section of the website under "About Us".
Current Members of the Governing Board
Ms Sunbul Akhtar - Parent Trustee - term ends June 2025
Sunbul, a parent trustee, works in publishing. Graduating with a degree in Politics and Internal Relations from the University of Westminster, Sunbul started her career in commissioning and editorial work before moving into her current role as the publisher of a journal in academic publishing. She is committed to diversifying the editorial boards of journals in her portfolio by nurturing academics in publishing, from researchers to reviewers to editors.
Working with words during the day, Sunbul spends her evenings as a printmaker. Her work has been featured in exhibitions at the Museum of London, the Rafiki Gallery and Remembering Srebrenica. Her work has also been featured in the quarterly printmaking journal, Pressing Matters.
Professor Ashley Braganza - Member
Ashley is deputy dean of Brunel University London's College of Business, Arts and Social Sciences and Professor of Organisational Transformation at Brunel Business School. His research and consultancy expertise covers the development and implementation of strategy. He has won a number of grants over the years, most recently with UKIERI, to create a curriculum for employability skills for mainstream and special needs students. He has published three books and over one hundred papers.
Ashley has worked with many organisations advising them on a variety of business process, digital transformation, strategic, knowledge management and information systems issues. He is on the council of the British Academy of Management and founder of the organisational transformation, change and development special interest group within the Academy. He serves on the governing board of a school.
Prior to joining Brunel Business School, Ashley was with the Cranfield School of Management for 17 years in a variety of senior academic roles. Ashley attained his doctorate, which focused upon the implementation of radical process oriented change, from Cranfield University. Ashley completed a MBA at Strathclyde Business School. He elected to specialise in corporate strategy and finance. Prior to his MBA, he completed the Chartered Institute of Bankers examinations. Before joining academia, Ashley spent ten years in the banking industry.
Ms Pippa Dafinone - Trustee - term ends February 2027
Pippa is a qualified ICAEW Chartered Accountant with over 7 years of experience, previously as an auditor and currently as a Valuations Specialist primarily focused on the Financial Services sector.
Pippa graduated from Manchester University with a BSc degree in Biochemistry. She is passionate about promoting financial literacy and STEM opportunities for young women.
Ms Alison Davis - Member
Originally a graduate chemist, Alison has worked in IT roles in the pharmaceuticals and life sciences sector for 31 years, 17 of them as CIO. Since November 2013, she has been the CIO for the Francis Crick Institute. Her work in leading the team that set up the IT capability for the Crick was recognised with the Women in IT 2018 CIO of the Year award. Alison is mum to a teenage son and daughter. She is also a governor at her son's state grammar school. She is enthusiastic about encouraging women to follow careers in STEM subjects in general and IT in particular.
Mr Amir Fakeeh - Trustee - term ends February 2026
Amir currently holds a senior management position within the construction industry, where he is responsible for project planning, facilities management and liaison with various stakeholders. He also has a part-time consultant role in an R&D micro-wiring firm. Previously, Amir worked in innovation consulting where he advised firms in technology and food manufacturing sectors.
Amir graduated with a First Class degree in Materials Science Engineering from Imperial College London, and a Master's degree in Nanotechnology from the University of Cambridge. He has also completed his PhD research at Cambridge University, specialising in Hydrogen Fuel Cells.
Amir is passionate about inspiring girls to pursue careers in STEM and entrepreneurship. He is currently a link governor for data, as well as a STEM lead.Biography in progress
Ms Saba Hakim - Community Trustee - term ends June 2025
Saba is Chartered Accountant and has spent the last 19 years working in Accounting, Controlling and Data roles with the Financial Services sector.
A mother to two primary school aged children, Saba grew up locally and attended Copthall School for Girls in Mill Hill. She is a strong supporter of girls studying STEM subjects.
Saba has a degree in Chemistry with Management from Imperial College London.
Mrs Toyin Aderoju - Trustee - term ends Jan 2026
Toyin has a background in Biomedical Science and Neuroscience (MSc, Kings College London) and is a mother of two primary school-aged girls. Driven by a keen interest in the education of girls, she has also specialised in Educational Studies and Educational Assessments (University of Cambridge).
She has further expanded her expertise to incorporate IT consultancy where she has years of extensive experience in leading strategic planning and delivering numerous agile technology and digital programs across Financial Services, Oil & Gas, Insurance, Public Services, and Telecoms.
She is an advocate for teaching girls to embrace change as a vehicle for improvement, as they move through the different stages of their personal and professional lives.
Ms Jessica Spearman - Acting Chair and Parent Trustee - term ends December 2023
Jessica is a parent governor, who has lived in Barnet most of her life and is a former QE Girl and then read Philosophy, Politics and Economics at Oxford University. Jessica is an experienced finance professional who is currently Head of Finance at the King's Fund having previously worked in education finance at Hackney Community College having qualified as a Chartered Accountant with Deloitte
Mrs Violet Walker - Headteacher and Trustee
Violet began her career in education as a mathematics teacher in 2001 after two previously successful careers in accountancy and psychotherapy. She has achieved the National Professional Qualification for Headteachers. Violet was accredited as an Advanced Skills Teacher in Mathematics in 2004 and is an LLC Coach and an accredited Specialist Leader of Education. In 2006 Violet set up a new sixth form, judged outstanding from its first inspection. Alongside her role as head of sixth form and assistant headteacher at an outstanding school in Harrow, Violet worked with the National College as part of the London Leadership Strategy to develop teaching across Greater London and to write and deliver a programme to build capacity in sixth forms in Greater London and Greater Manchester schools and sixth form colleges. Violet was seconded for a period in 2011, as a deputy headteacher, to an outstanding school in the Royal Borough of Kensington and Chelsea, to support the development of the leadership team and improvements in mathematics. In 2012, as a specialist leader of education and sole deputy headteacher, Violet joined a school in Ealing which had been placed in special measures three months earlier. She supported the headteacher to take the school out of special measures in a year. Violet's areas of responsibility included the curriculum, quality assurance of learning and teaching and data triangulation, professional development of staff, staffing and performance management. Violet was key to the improvement of the school which was judged to be good, two years later, in the summer of 2015.